How to use the DLC toggler – Cracked games only
Anadius created a great tool for managing your DLC's
Download the DLC toggler
Extract with Winrar
Copy the 3 files to the installation folder of the Sims 4 (the folder where you can see __Install, Delta, Data, Game, Support and your DLC's, see image on bottom of this page)
Run the dlc toggler
You now should see something like this: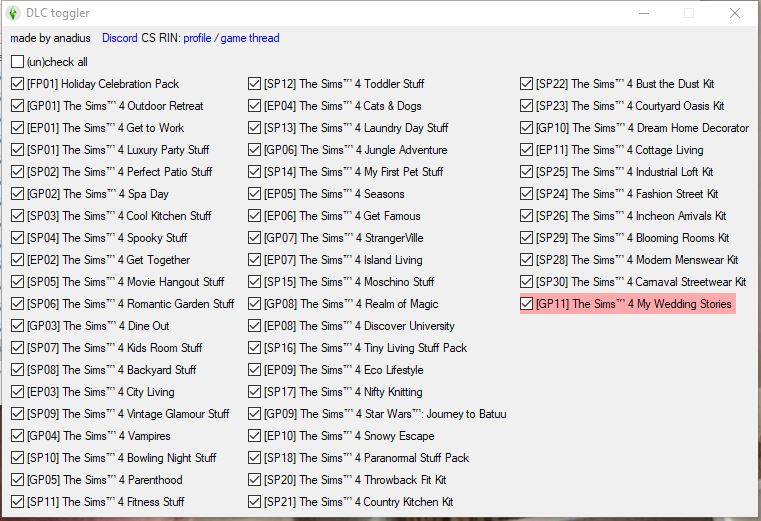 As you can see, I have all DLC's installed except GP11, all items are checked and GP11 is in red
Latest dlc.ini (only 83 KB)
When you don't see all packs, download the latest dlc.ini and copy it to your installation folder overwriting the old dlc.
No need to re-download the complete dlc-toggler
There are items in red
In that case remove the check in front of it but make sure all DLC's in grey still are checked.
The items in red are DLC's you do not own. You can still download these via the Anadius Updater or the Anadius Repack
If you don't uncheck red items they will still show up in your game as being already in your possession
Temporarily switch off DLC's in your game
Say f.e. that you don't like SP04, Spooky Stuff.
Simply uncheck SP04 from the toggler and voila none of the items of SP04 are applicable in your game, but it won't show up in red
If later on you decide to have SP04 in your game again, just tick SP04 again.
Definitely remove DLC's from your game
Run the Uninstaller and select the items you want to remove.
They will be removed from your game and in case you want these back you'll have to download them again.
Error Crack not found
You did not copy the files of the toggler to your installation folder of the Sims 4 (see picture below).
The toggler can not be used in a legal or Pack System folder of the Sims 4
Example of your installation folder

Hits: 56728