Access to the Sims 4 gallery without an original game
Thanks to Anadius it now is possible to access the gallery without an original DLC of the Sims 4 game.
On first start up of your The Sims 4 you are confronted with this menu

Click on Log in when you want access to the Gallery or click Start offline (if you don't want access)

Steps 1-3 (create a dummy account)
When you don't have an EA account already create one (click on open origin.com)
Don't use your legal account-name if you have one
From that new account download a free game such as The Sims 4 creator
Log out
Steps 4-5 (prepare for a cookie named Remid)
4. Open your new account in Origin
5. Click on open accounts.ea.com/connect in the menu above
You will see an almost blank screen with an error message. Ignore it because it is important
Don't close your browser and do not close the errorpage
Press F12
Firefox: click on the Storage tab
Chrome: click on the Application tab
Click on cookies
click on https://accounts.ea.comEA connect
Step 6 (get the Remid Value)
6. Click the line under Cookies (must read https://accounts.ea.com if not you've done something wrong in the previous steps) and you see Remid on the right-hand site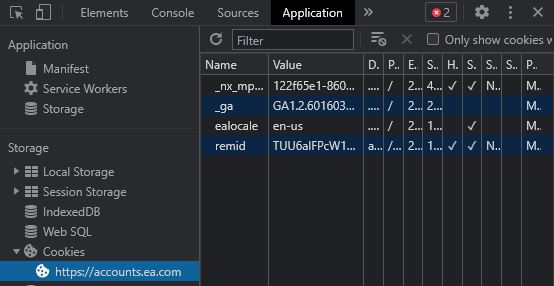 Click on Remid and in the bottom of the screen you see a pretty long value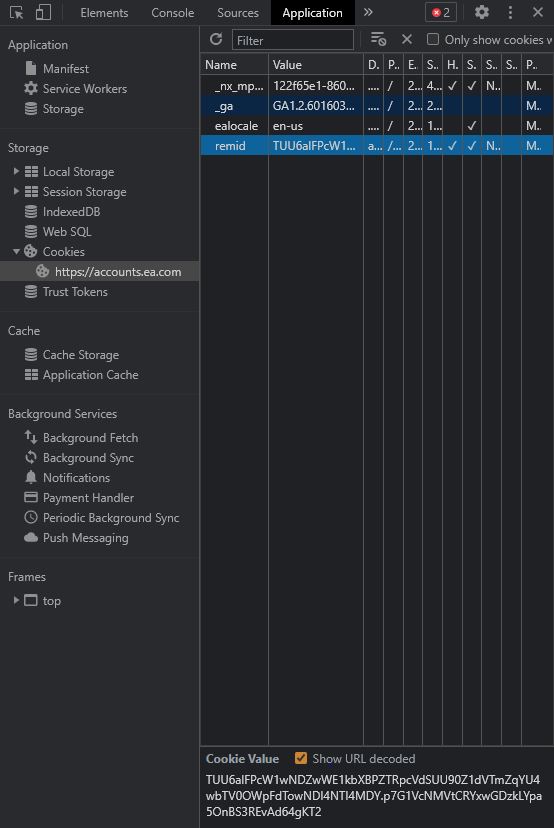 Copy that value and paste it in the window for the Remid in your log in.
Close Origin
(create shortcuts) – if not already done by the update itself
First of all check if the installation made 3 shortcuts on your desktop, The Sims 4, The Sims 4 always on line, The Sims 4 always offline.
If not present, create them yourself
Open your old shortcut, right-click on it – select Properties
you see 2 windows, in the top window scroll to the right until you see .exe""
Now add a space and a minus-sign
If you want full access to the Gallery type alwaysonline
If you don't want access type alwaysoffline
Click Apply and click OK
(use the Gallery)
When you have chosen for the full acces to the Gallery (alwaysonline) you can download items and immediately use them in your cracked game, just like you do in a legal game.
the only difference is that you no longer need Origin to access the Gallery.
---
Tutorial video – how to get the remid code and where to paste it
Unfortunately I cannot reproduce the menu's anymore because I entered the correct remid code already, so I have to make this video based on pictures and not the actual menu's.
At least it will show you how to obtain the remid code after you registered a new (dummy)account and installed The Sims 4 Create-a-Sim
Hits: 43827