The Sims 4 – Update your cracked game to the latest version. (1.82.99.1030) – 64 bits only
I guess we all know now how simple it is to update your game to the latest version by using the Anadius Updater.
However, some people still experience having difficulties with this system. (network error, some old updates not found)
Our alternative system provides you with the latest updates without interfering with your present DLC's.
It consists of:
The latest base-game
You can always add DLC's later on
---
Installation of the latest base-game for the Sims 4
This will not destroy your present game
It will not remove or add DLC's presently in your game
Update your game to the latest version, irrespective of how old your present version is.
Download the torrent for this update
When download is completed mount the .iso and copy the files/folders of the mounted .iso to your installation folder
[__Install, Data, Delta, Game, Soundtrack and Support], overwrite ? – Yes
You can now play your present The Sims 4 game fully updated to the latest version
No DLC's have been removed nor added
Files added are the DLC-toggler and the Language-changer
---
Add missing DLC's to your game
Run the DLC toggler. It will show all DLC's not installed in red.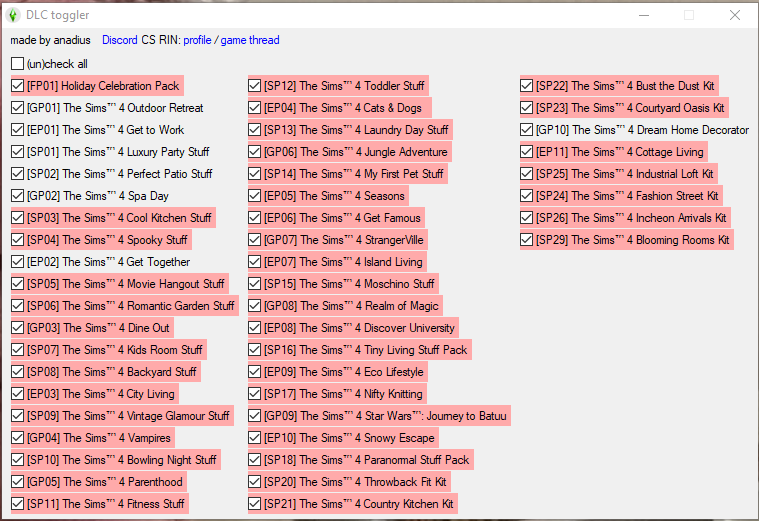 As you can see from the above picture I only have a few DLC's installed
Should you not want any additional DLC's, just remove the ticks from the red items.
If however you want to add more DLC's to your game, download these via the Pack-system and place these of course in your cracked installation folder (no specific order required)
Hits: 518